Christmas is quickly approaching, and there can be a lot of pressure to give loved ones or friends the perfect gift. Instead of going for a seasonal gift, give a gift they can use all year long, like safety eyewear from SafeVision. 
The holidays can be a hectic time of year. But when it all dies down, you want your gifts to remain top of mind for more than the holiday season. We have created this gift guide featuring gifts like eyewear and other SafeVision products perfect for any friend or family member. Plus, with our affordable pricing, these gifts are ones you can keep on gifting! 
High-Quality Products For All
At SafeVision, we believe in producing quality products for all our clients. 
For over 75 years, SafeVision has continued to redefine prescription sports and safety eyewear and has consistently advanced the prescription safety eyewear industry by providing corporate and individual customers with an exceptional range of ANSI Z87.1 approved eyewear. SafeVision frames are ergonomic, designer-styled, and functional, plus they are affordable for everyone. Our accessories are also high-quality and available to order online for anyone, not just those in the industrial industries. Our goal is to bring high-end products to everyone. 
Wiley X Gravity (Sunglasses) 
As part of the Wiley X Climate Control series, these frames feature a tight-fitting, wrap design with a removable foam cavity seal that protects eyes from fine dust, pollen, irritants, and peripheral light. They meet or exceed ANSI Z87.1 industrial standards for high-mass and high-velocity impact protection. The smoke grey lenses reduce glare without distorting colors and are excellent in bright/glare conditions. Plus, 100% UVA/UVB protection with distortion-free clarity. 
These Safety Frames come with grey tinted (non-prescription) polycarbonate lenses + Black zippered clamshell case + Cleaning cloth with Wiley X logo + T-Peg elastic strap + Leash cord with rubber grips + Removable facial cavity seal.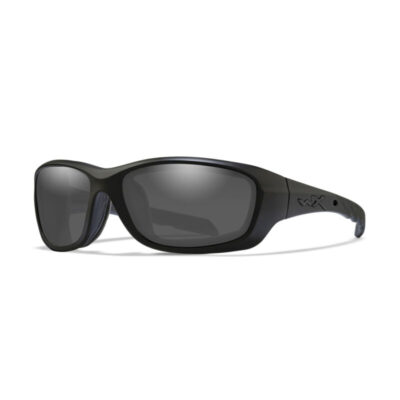 To purchase, click here. 
Wiley X Contour
As a part of the Wiley X WorkSight series, these frames are the perfect balance between form and function. This retro, wing-tip-inspired design is made from extremely durable Triloid nylon material. With removable side shields equipped, they meet or exceed ANSI Z87.1 industrial standards for high-mass and high-velocity impact protection. The clear, shatterproof polycarbonate lenses also offer 100% UVA/UVB protection with distortion-free clarity.
Included with these safety frames are clear (non-prescription) polycarbonate lenses, + Folding case, + Removable side shields with a drawstring bag.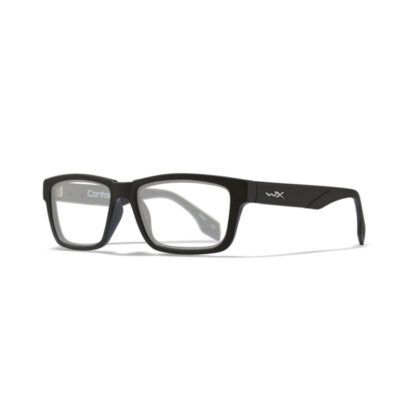 To purchase, click here.
Pentax ZT500G Safety Glasses 
This tight-fitting eyewear protects against dirt, dust, and droplets and fits a wide range of head sizes, with a soft nose pad that allows a comfortable fit for long-term wear. The Latex/rubber-free skirt seal provides a comfortable fit around the eyes. They feature flexible temple tips for a secure and comfortable fit and a head strap for a snug fit. Nonconductive. The ZT500G meets ANSI Z87.1 and CSA Z94.3 impact requirements with lenses made of clear, impact-resistant, polycarbonate material, which meet ANSI and CSA 2.0 mm minimum thickness requirement.
These frames come with clear (non-prescription) polycarbonate lenses, + Removable skirt seal, + Head strap (attaches at mid-temple).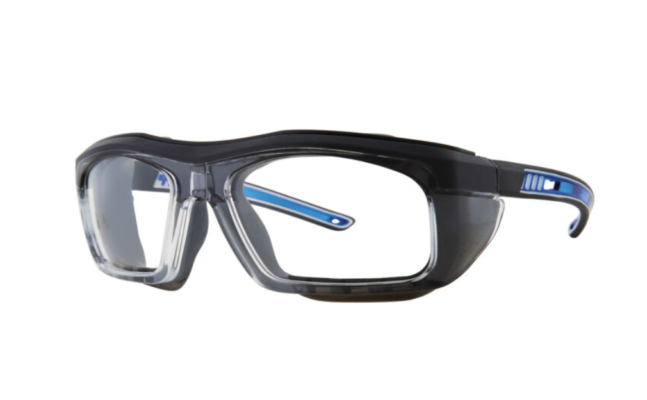 To purchase, click here.
SafeVision Anti-Fog 30ML Spray Kit 
Keep your eyeglasses from fogging when wearing a facemask or tight-fitting eyewear with our spray kit. This kit comes with (1) spray bottle, (1) microfiber cloth, (1) carrying pouch, and (1) retail box. The spray is great for all glasses & sunglasses, including prescription eyewear, face shields, goggles, respirators, safety glasses, SCBA masks, face shields, swimming goggles, dive masks, and motorcycle visors, and windshields. Also, hunting scopes, binoculars, ski & snowboard goggles, cell phones, tablets, smartwatches, and cameras lenses. 
Prevent fog on all devices or lenses due to heat, cold, or high humidity with the anti-fog spray kit when you shop here. This gift is perfect for anyone!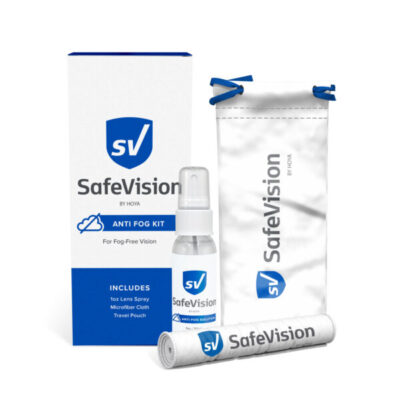 Shop SafeVision Products 
These are just a few of the many products on our site that are perfect for the holidays. To explore the rest click here, and give the gift of SafeVision to everyone! 
Are you a corporate safety manager who feels like giving a gift to all your employees this year? Speak with one of our representatives about our corporate programs to bring safety eyewear to all who need a pair!